Regular price
Sale price
309,00 kr
Unit price
per
1,71 kr per piece
×
Keep it coming.
Free shipping and 10% off when you subscribe.

You know what you like, and you know when you'd like it. So cut out the shop time, cut down the price, and cut to the chase.
Learn more.
Full Nutritional Facts
×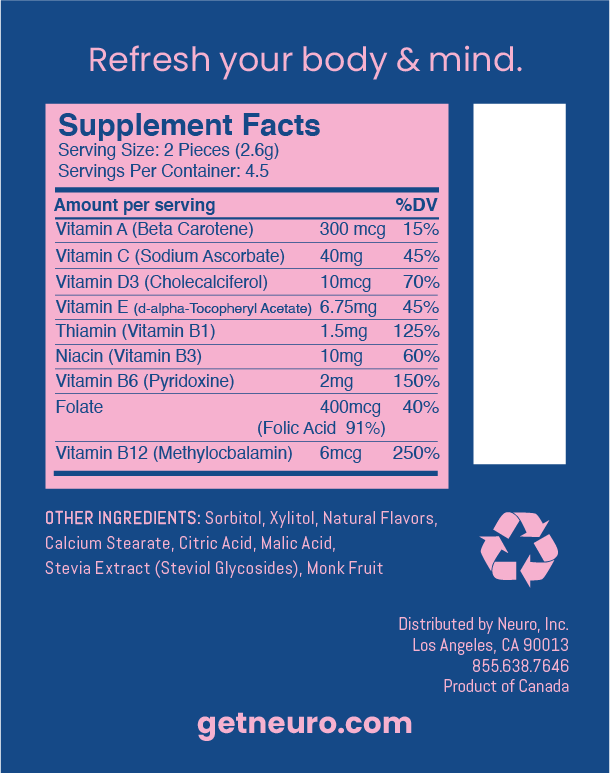 Neuro Health & Vitality mints are packed with vitamins that promote general health and wellness to get you through your tasks and activities every day. Our mints are an excellent source of B1, B3, B6, B12, C, D3, E, and Folate and a good source of Vitamin A.
100% Happiness Guarantee
If you don't love it, it's on us.
Fast Shipping
Free shipping over $35. Subscription shipping always free.
All Natural Flavors
Gluten free, sugar free, aspartame free, dairy free and vegan.
Functional ingredients. Functional mind.
Our state of mind influences us in every moment – it affects our moods, thoughts, behaviors, and over time, our identities. That's why we created Neuro – functional gum and mints formulated to refresh your state of mind.
Enhanced Bioavailability
Neuro uses a patented cold-compression method to combine our ingredients. This means nothing gets broken down in the production process, enhancing the bioavailability for cleaner, more effective absorption.
9 Essential Ingredients
The vitamins contained in our high quality, sustainably sourced mints fulfill a variety of functions that keep your body at its best to keep up with a life full of pursuing passions, not counting out pills.
Vitamin A
(Beta Carotene)
Essential for vision. Keeps tissues and skin healthy. Plays an important role in bone growth and in the immune system. Carotenoids act as antioxidants.
10%
Helps convert tryptophan to niacin and serotonin, a neurotransmitter that plays key roles in sleep, appetite, and moods. Helps make red blood cells. Influences cognitive abilities and immune function.
HCl
Helps convert food into energy. Needed for healthy skin, hair, muscles, and brain and is critical for nerve function.
HCl
Helps convert food into energy. Essential for healthy skin, blood cells, brain, and nervous system.
98%
Vitamin B12
(Methylcobalamin)
Aids in lowering homocysteine levels. Assists in making new cells and breaking down some fatty acids and amino acids. Protects nerve cells and encourages their normal growth. Helps make red blood cells and DNA.
1%
Vitamin C
(Sodium Ascorbate)
Helps make collagen, a connective tissue that knits together wounds and supports blood vessel walls. Helps make the neurotransmitters serotonin and norepinephrine. Acts as an antioxidant, neutralizing unstable molecules that can damage cells. Bolsters the immune system.
87%
Vitamin D3
(Cholecalciferol)
Helps maintain normal blood levels of calcium and phosphorus, which strengthen bones. Helps form teeth and bones.
100,000IU/g
Vitamin E
(Tocopheryl Acetate)
Acts as an antioxidant, neutralizing unstable molecules that can damage cells. Protects vitamin A and certain lipids from damage.
700IU/g
Vital for new cell creation.Can lower levels of homocysteine.
91%
Certifiably Safe
We have gone through extensive processes to ensure our products are not only effective, but safe and compliant as well.
NSF International verifies that products meet public health and safety standards. Neuro passed with flying colors.
The World Anti-Doping Agency (WADA) monitors the fight against drugs in sports. Neuro can keep you in the zone and in the game.
The Food and Drug Administration (FDA) regulates the safety of food, drugs, and other consumer products. Neuro fits the bill.
"
It gives you a clean burst of energy and focus without the jitters of coffee or energy drinks.
"
"
NeuroGum is now a thing.
"
"
To me, NeuroGum is a yes.
"
"
To my surprise, the gum did improve my reaction time and concentration.
"
"
I thought there was no way gum could increase my attention so I could get more work done. Guys, I was wrong. This stuff works, and works well.
"
What are people saying about ?
Customer Reviews
100
reviewers would recommend this product
Write a Review
Ask a Question
Filter Reviews:
8/10
characters
vitamin-y
industry
peppermint gum
item
products
kind
experience
Nothing